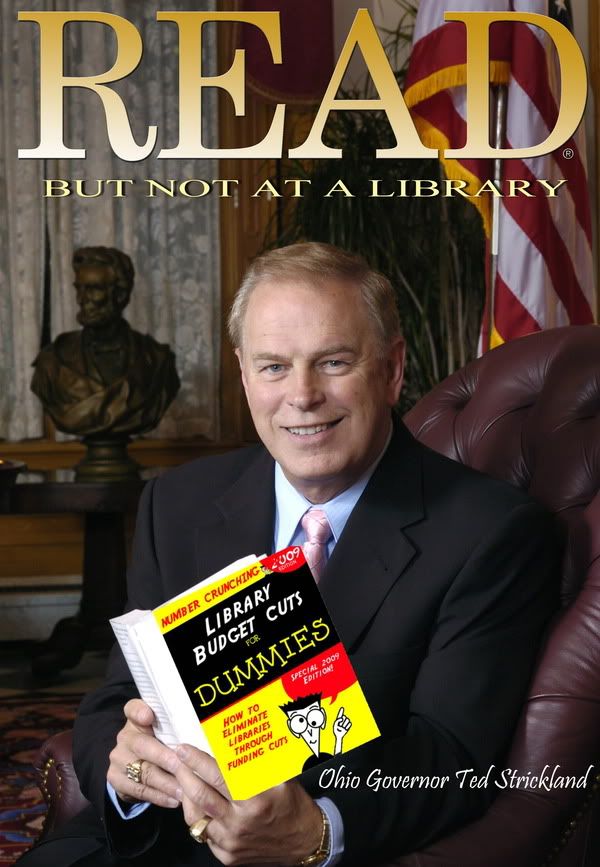 Literally the whole issue has exploded. The
Ohio Library Council
has been running
the Save the Library campaign
which has culminated in
thousands
of
calls and emails
:
People are listening and acting. Since his Friday budget announcement Strickland's office logged 3,156 calls, about 80 percent of them regarding library funding, and 13,360 emails on the subject, said spokeswoman Amanda Wurst. On a normal day his office gets about 150 calls, she said.
Rallies
are also being held
across the state, and they can be tracked
in this post on the STL site
. The blog
The Library is Now Closed
has been created specifically to keep track of everything going on, and hell it's got star attention:
Neil Gaiman
twat
tweeted about it a few days ago:
Foolish, bad Governor Strickland: Libraries are essential services. Read & RT http://bit.ly/ohiofail and its links #saveohiolibraries
It's worked so well the OLC is asking people to
lessen
the force being applied. The General Assembly is now considering amendments to the budget proposal, but they need a state budget set by July 1st because that's the beginning of the fiscal year. So they'll be working over the weekend to square things. The result? Well we won't get a full restoration of the budget, but probably a partial restoration. They'll be some closings and certainly layoffs and cut hours, but it's going to be nearly as bad.
Our big issue in Dayton is our upcoming levy, and that's looking gloomy. I'm going to be doing research on the laws behind levies and see what kind of advertising we
can
do. I really think what we need is a kind of independent organization that supports the libraries and can, legally, promote the levy, an the Dayton Metro Library can point to them and say "Yeah, we agree with them." Friend of the Library could be such an organization, but we need something more local. We'll see what can be done.
Thanks Mel for updating me on this!